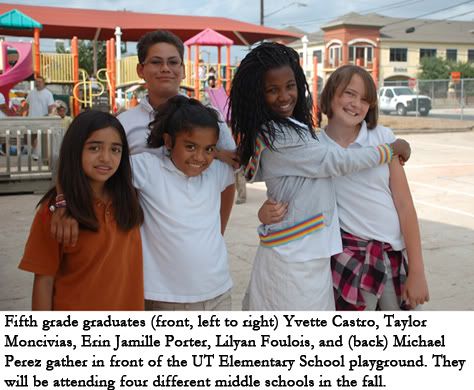 In the week following commencement, The University of Texas at Austin celebrated the graduation of some of its youngest scholars. The "little longhorns" are students at UT Elementary, the university's demonstration charter school that serves residents of East Austin and is part of the Division of Diversity and Community Engagement. On May 25 the school's fifth graders walked the stage at The University of Texas Alumni Center to commemorate the successful completion of their elementary school career.
As they wrapped up their last week of class, the DDCE caught up with five exuberant fifth-grade students to discuss their favorite memories of UT Elementary and their plans for the future. The students looked back on their elementary school years with nostalgia, while looking ahead into the unfamiliar world of school lockers, course schedules, team sports and teenage peers.

Stretching their wings
No longer "the little kids," this year the fifth graders enjoyed opportunities to be more independent than they were in earlier grades, taking overnight field trips to Outdoor School last fall and Port Aransas this April. "We did canoeing, we went rock climbing, we played a bunch of games, we made s'mores, and we did this rope course. It was fun," Taylor Moncivias said of Outdoor School, which provides personal development, team building and leadership training through outdoor adventures at Camp Champions in Marble Falls. "My favorite was the rock climbing," said Michael Perez. "They had a bell on the top, and there were a lot of people who climbed to the very, very top and rang the bell.  And it was really, really high."
Lilyan Foulois' favorite outdoor learning excursion was the trip to Port Aransas, where she and her classmates experienced marine biology firsthand with help from the Port Aransas Marine Science Institute. "We got to catch a bunch of squid and plankton, and all kinds of fish," she said. "It was a really cool experience for people who'd never gone on a boat before and got to use microscopes." Yvette Castro also loved exploring the Gulf of Mexico and seeing dolphins.
The five agree that the students, teachers and staff at UT Elementary make the school special. They may not know the name of the school's research-based program, Social and Emotional Learning (SEL), which helps teachers equip each child with positive self-awareness and emotion management so they can better collaborate in the classroom, but the fifth graders recognize that there's something different about their school, something special.
"We're in the middle of East Austin and you wouldn't think there would be a school like this," said Michael.
"You would expect there to be a bunch of bullies or something, but the atmosphere of our school is kind and peaceful," added Lilyan, who noticed positive changes in herself and her classmates as they progressed from kindergarten to fifth grade.  "Sometimes people don't really know how to act at this school when you first get here, but when you go through a lot in this school … you'll be like, 'Wow, I've changed a lot since the first time I started here. Like, Yeah, my grades went up! I'm not a bully anymore!'" she joked.
"That happened to me," Erin Jamille Porter said more seriously, marveling at her own transformation. She has appreciated the way her UT Elementary teachers "actually get to know you, get to spend time with you and help you," something that helped her grades to soar after she transferred to the school.
Flying the coop
The transfer from the cozy nest of UT Elementary to the crowded hallways of middle school is fraught with worries, but also full of anticipation. "I'll be like, 'I don't know anybody. I don't know if I'm going to have friends,'" said Lilyan, who will attend the Ann Richards School for Young Women Leaders. "But I already met this one girl, and she's pretty nice. So I already have one friend."
Erin is deciding between attending East Austin College Prep Academy or Harmony School of Excellence. "I'm going to be the only kid that I don't have any friends from here that I know of, so I'm going to be kind of scared," she admitted, "but I hope that the teachers are the same."
Michael will attend Gorzycki Middle School, and thinks it will be "a little hard, because there are more people in the classes. There are twenty people in our classes now, and there's going to be an extra ten people." Plus, he adds, "You've got to remember which class you've got to go to." But he's looking forward to the sports. "It's going to be cool because I get to play football and basketball," he said.
Taylor is a little nervous about heading to O. Henry Middle School. "I think it's going to be rough over there because there's a lot of bigger kids than me, and they might, like, run me over when we go to class. And I might have to hide in a locker or something," she said. But other than the height factor, she is excited. "I think it's going to be fun, because I'm not a little kid anymore. And I'm growing."
Setting high goals
Summer camps and middle school orientations may be the students' immediate goals, but that doesn't stop them from thinking more long-term. Having already embraced the longhorn mascot, the fifth graders would all consider continuing to wear burnt orange when they get to college.
"I want to go to UT," said Lilyan without a second thought.  "It's close, and I don't want to move. I don't want to leave Austin. I'll leave Austin when I have summer vacation, but I'm not moving!"
Michael would like to stay in Texas, but not necessarily in Austin. "I have five choices," said Michael. "I'm thinking TCU, UTSA, UT, Texas Tech, or I'm really thinking about going to A&M. I've always lived in Austin, I've never lived anywhere else," he said.
Erin has her sights set out of state. "I have some choices: Yale, Georgetown University in Washington, UT or UVA, I think it's called."
Taylor and Yvette have yet to explore all their options, but are both keeping the Forty Acres on the table. "We're kids, we're not sure what college yet," said Taylor. "I'm pretty sure I'll look and I'll find some other colleges I want to go to. But right now, I'm thinking UT."
Yvette smiled with a dreamy look in her eyes. "I think [I'll go] wherever life takes me," she said. As some of the youngest "Texas Exes" ever, she and her classmates are off to a great start.